Ceramic Crowns vs. Dental Veneers
Both porcelain crowns as well as cosmetic dental veneers have similar benefits when it comes to creating a beautiful smile. They are, however, two very different types of restorations, each serving a specific purpose depending on the needs of your smile. While veneers and crowns are used by our Mesa, AZ dentist for different purposes, they can both enhance the appearance of your smile. Which one is best for you?
What is a Dental Crown?
Protective restorations such as dental crowns cover the portion of your tooth above the gums or on top of dental implants if you have a missing tooth. They restore the tooth's appearance and structure above the gum tissues, so you can continue to chew and bite on the tooth without it breaking or wearing out. Our Mesa dentist also places crowns on top of teeth after root canal therapy is complete.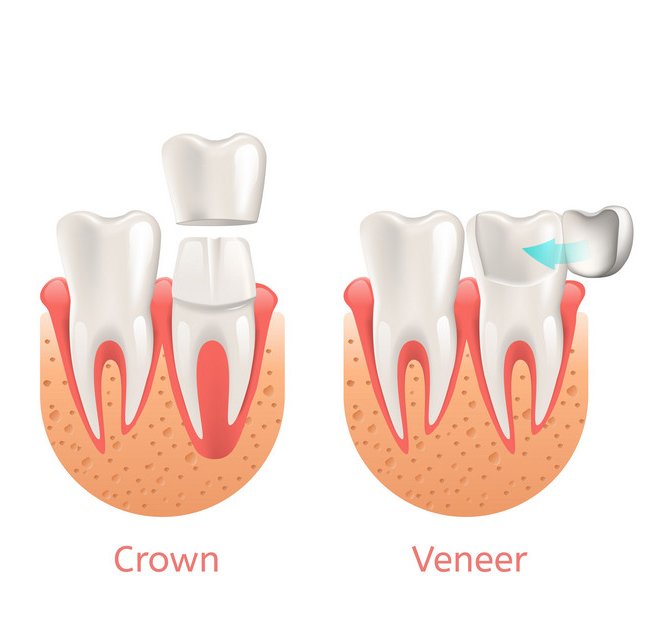 While a crown may be used to improve your appearance, its main purpose is to restore your teeth. Without a crown, your compromised tooth would either wear down, break apart, or ultimately need to be extracted.
Because crowns are made out of durable porcelains and ceramics, we can design exactly how we want them to look, benefitting your smile's appearance at the same time.
What is a Cosmetic Veneer?
Cosmetic dental veneers are thin aesthetic restorations that Dr. Vinh Huynh bonds to the front of your most prominent teeth at the front of your smile. It's usually the upper 6-10 teeth, depending on how wide your smile is when you're laughing or posing for photos.
Veneers are strictly used to alter the appearance of multiple teeth rather than their function. Veneers do not cover your entire tooth. They only cover the front of the tooth and just over the edges. Their purpose is strictly cosmetic rather than restorative.
Are Crowns and Veneers the Same?
Crowns and veneers are almost identical from the outside looking in. Dental crowns can be made with different materials, such as porcelain/ceramic, zirconia, or even gold, depending on which tooth you're repairing. Whereas veneers are typically crafted out of porcelain because of the natural shade variation in the material.
Every crown and veneer should have a natural yet elegant-looking appearance. Crowns should match the appearance of adjacent teeth. If you have multiple crowns, you have greater flexibility in changing the shape, color, and other details of their appearance.
Dental veneers are typically placed across multiple teeth at once, not just one or two. They are designed to make your smile look different from your current natural smile. This provides more flexibility regarding the contour and color of white for your aesthetic needs and personal preferences. It's not about blending in with the rest of your teeth but about improving the overall appearance of your smile.
When you smile, nobody should be able to tell you if you have veneers or crowns. They should look natural and beautiful. But one is to blend in, while the other is to change how you look.
Do I Get A Crown, Veneers, Or Both?
It may be possible to combine veneers and crowns if they are made by the same ceramist. It's important to determine which one(s), if any, you require before starting the process. Ceramics and porcelains can be difficult to match if they are placed at different times.
If your teeth are strong and healthy, our Mesa dentist may recommend dental veneers. A full-coverage crown will be recommended if they aren't. For example, we could pair veneers and crowns together at the same time so that our lab can craft each restoration using the same batch of ceramic materials to ensure consistency and aesthetics. 
Summary 
A crown may be the best option if you have only one or two teeth that are worn or broken. Veneers are usually installed in sets of 6-8 for cosmetics, while restorative crowns are typically limited to just 1-2 teeth. Dr. Vinh Huynh will help you understand the differences and explain the pros and cons of each option for your circumstances. Our Mesa, AZ dentist's office will take care of your smile like it was one of our own.
Cosmetic Dentist in Mesa, AZ
Eastport Dental provides customized cosmetic treatments that are tailored to each individual. You may need multiple veneers or crowns or a combination thereof to help your smile look its best. Our cosmetic dentist in Mesa can help determine the right solution for you. Call our office today to schedule your first exam!