What are dental implants?
Dental implants are artificial tooth roots that anchor fixed dental restorations, such as crowns, bridges, or All-on-4 dentures. They serve to recreate missing teeth and are considered today's "gold standard" for tooth replacement.
Is it safe to get dental implants?
Absolutely. Implants are one of the most predictable and successful treatments in dentistry. But additionally, they're safe for your smile. Placing a dental implant prevents having to reshape adjacent tooth structures.
What are the benefits of dental implants?
An implant helps preserve natural bone integrity and tooth placement. By filling in the place of the missing tooth, your mouth and facial profile can retain their natural shape. Additionally, implants are stronger than natural teeth. This characteristic makes it possible to eat and enjoy all your favorite foods and to use fewer pairs of implants to replace multiple teeth at one time.
What is a dental implant made from?
Each of our Mesa dental implants is made out of hypoallergenic, biocompatible titanium. Titanium is a safe metal that is frequently used for surgical procedures, as it's gentle on the body and readily accepted by people's immune systems. Titanium naturally attracts bone tissue, which is what allows these restorations to become permanently integrated into the jaw.
Does it hurt to get dental implants?
Getting dental implants is easier and more comfortable than most people realize. The minimally invasive nature allows us to place implants using only a small amount of local anesthetic (numbing medication.) However, some people — especially those requiring extensive full mouth rehabilitation — do request to have their procedure completed under sedation.
How long do dental implants last?
A properly cared for dental implant can last the rest of your life. These treatments are the only tooth replacement option capable of lasting so long. Investing in an implant is one of the most cost-effective ways you can restore your smile.
How many dental implants do I need?
If you're only missing one tooth, you'll want an individual implant and crown. But multiple missing teeth don't necessarily need a one-to-one ratio of implants to teeth. We can use pairs of implants to anchor restorations, with as few as four implants capable of supporting a full-arch hybrid prosthesis (All-on-4).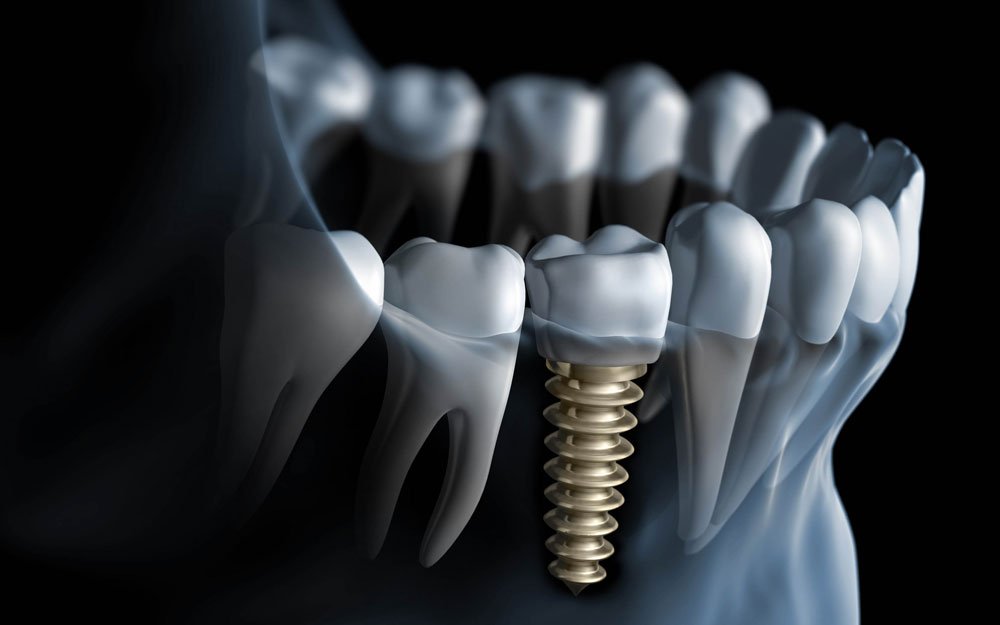 Can I replace all of my teeth with dental implants?
Absolutely. If you're missing all of your teeth we can use as few as four implants to anchor a full-arch All-on-4 prosthesis. However, if you still have several healthy teeth that you're able to retain, we discourage extracting them unless necessary.
How should I take care of my new implants?
Treat your dental implants like natural teeth. Brush them twice a day for two minutes and floss them at least once daily. If flossing is difficult, consider using a water flosser. The primary goal is to keep the gums around them as healthy as possible.
How do I find an implant dentist in Mesa?
Dr. Huynh is a highly experienced implant dentist in Mesa. Eastport Dental provides a wide variety of implant services. Dr. Huynh's training makes him the perfect implant dentist to see if you have missing teeth.
What types of tooth replacement options are available with dental implants?
There are multiple options available. You can choose to have a single tooth replaced with an implant and crown or use a pair of implants to anchor a multi-tooth dental bridge. Removable overdentures are like traditional dentures that "snap" onto dental implants. Or, you can opt for the best full-arch option: All-on-4 treatment.
How long does it take to get dental implants?
Dental implant treatment is something no one should rush through. Careful planning and staged placement will ensure the best outcome. In most cases, you will want about six months to allow your implant to fully integrate with the bone at the installation site.
Do I need a referral to see an implant specialist?
Eastport Dental offers comprehensive dental implant therapy at our Mesa office. No extra referrals are necessary. If your case is particularly difficult, we will discuss those concerns during your initial examination.
Do I qualify for dental implant treatment?
Any adult with healthy gum and bone tissues will usually qualify for dental implant therapy. Dr. Huynh will evaluate your unique bite to determine if implants are the best solution for your missing tooth needs.
How do I get started?
Request a dental implant consultation at Eastport Dental today. We will be happy to answer any questions you have and help you determine the best smile reconstruction plan for your needs.