Xerostomia is the condition that's commonly referred to as dry mouth. People in Mesa, Arizona who experience xerostomia have a lack of saliva, which can be uncomfortable and lead to a host of other dental problems.
What Causes Dry Mouth?
Sometimes it can be hard to pinpoint what's causing your dry mouth because there are many things that could make this happen.
Your Age – For instance, as you age, your body just doesn't produce as much saliva as it used to.
Certain Medications – Both prescription and nonprescription drugs commonly cause xerostomia. These include muscle relaxants, sedatives, and medications that are used to treat depression, anxiety, pain, allergies, colds, obesity, acne, epilepsy, hypertension, diarrhea, nausea, psychotic disorders, urinary incontinence, asthma, and Parkinson's disease. The more medications that you're on, the higher your chances are of having xerostomia.
Disease or Infection – Medical conditions that cause dry mouth include HIV/AIDS, Alzheimer's disease, diabetes, anemia, cystic fibrosis, rheumatoid arthritis, hypertension, Parkinson's disease, stroke, and mumps.
Medical Treatments – Treatments like radiation or chemotherapy can damage salivary glands causing xerostomia.
Surgery – Having your salivary glands removed.
Dehydration – Not having enough moisture throughout your body.
Smoking and Other Tobacco Products – Tobacco reduces the amount of saliva that your mouth makes.
Mouth Breathing – Breathing with your mouth open can also contribute to a lack of moisture.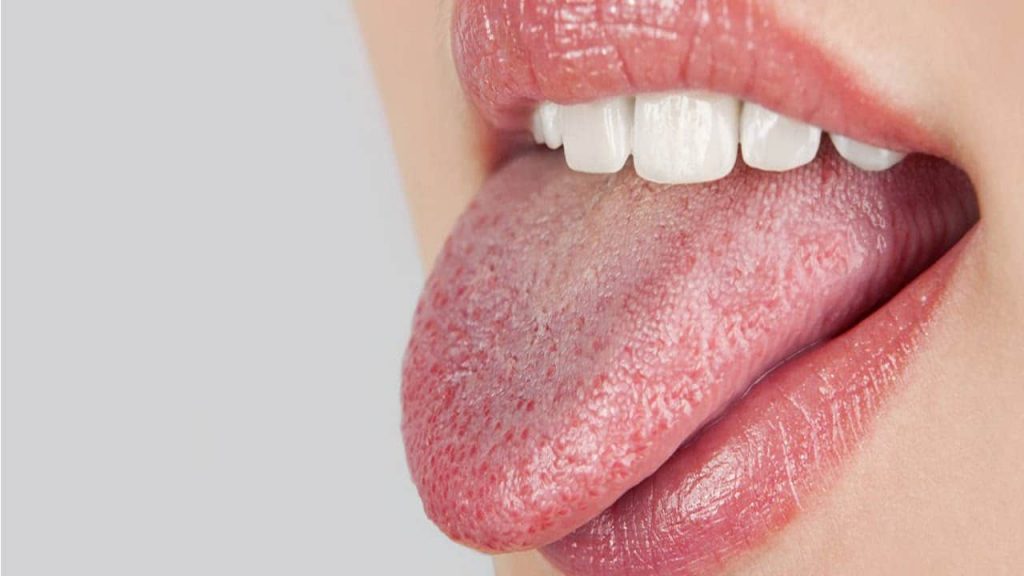 What Are the Symptoms of Dry Mouth?
If you recognize any of the following you may have xerostomia which should be addressed:
A sticky, dry feeling in the mouth
You're always thirsty
There are sores in your mouth
You suffer from dry, cracked lips frequently
Hoarseness, dry nasal passages, sore throat
Your throat feels dry
A burning or tingling sensation in the mouth and especially on the tongue
A dry, red, raw tongue
Trouble speaking, chewing, swallowing, and tasting your food
You have bad breath
Side Effects: Why Dry Mouth Is a Problem
In addition to some of the unfortunate circumstances mentioned above, dry mouth also causes other problems to arise.
One of the key roles of saliva is to flush and cleanse the mouth. This prevents infection by keeping bacteria levels low. If there's not enough moisture in your mouth to keep it cleaned out, then the bacteria grow and you can end up with a serious case of gum disease. The leftover food particles sit on your tooth and cause tooth decay.
Denture wearers can also have a difficult time wearing their appliance because it constantly rubs and causes sore places on the tissue.
What to Do About Dry Mouth
If you think that medicine is the cause of your dry mouth, then you should speak with your primary care physician to see if there's an alternative medication that you can take.
If you're a mouth breather, you may have a deviated septum that keeps you from breathing properly through your nose.  Seeing an ear, nose, and throat specialist may help you fix this issue.
Staying hydrated is always important.  Dehydration not only affects your mouth but your entire body.  The adult human body consists of 60% water, so be sure that you're getting enough fluids throughout the day.  Keep in mind though that sugary and acidic drinks are bad for your teeth so you may want to stick with drinking water.
You likely know that using tobacco has a ton of negative effects on your body so do yourself a favor and quit smoking, or chewing, or whatever it is you're doing.
If your dry mouth is caused by a condition that can't be helped, then our dentist can help you manage your symptoms. There are many products available that can improve xerostomia. For example, you can use a mouth rinse, dry mouth lozenges, sugar-free gum, dry mouth fluoride toothpaste, or a moisturizing spray.
Sleeping with a humidifier in the room may also be beneficial and worth a try.
Visiting our Mesa family dentist for routine cleanings and check-ups will allow up to stay on top of your dry mouth and be able to spot dental issues quickly.  For instance, cavities can be prevented with frequent professional cleanings and fluoride, and finding tooth decay when it's small will allow us to do a quicker, less invasive, and less costly treatment on you.
If you've been experiencing dry mouth, then come visit Dr. Vinh Huynh, DMD of Eastport Dental in Mesa, AZ. We can help you take the first steps to improving your xerostomia symptoms. Call today to schedule an appointment!