Dental implants and dentures are two of the most popular tooth replacement treatments in Mesa. Depending on your smile's needs, one, the other, or other variations of tooth replacement could provide the best treatment for restoring your smile. If you're early on in the decision process, here are some important things to keep in mind. 
Removable vs. Non-Removable
Traditional dentures are a prosthesis that you remove every night before you to go bed. You don't want to wear them long term, as bacteria can get trapped underneath and lead to infection (not to mention premature bone loss.)
On the other hand, an All-on-4 treatment incorporates a hybrid appliance that stays permanently in place. Nothing has to be taken out. Only a dentist or implant specialist can remove it. 
Efficiency (Speed of Treatment)
Theoretically speaking, dentures are the fastest and cheapest way to replace all of your teeth at one time. An impression is usually all that you need. However, if you're planning to have any teeth extracted, there will be multiple steps required for a same day denture to be ready in time. Once your mouth is fully healed, we'll want to deliver a permanent denture or have the initial one relined so that it fits properly.
Dental implants are also an efficient treatment, but the planning process combined with integration phases may take a few months or more. Even though the dental implants are installed in one day, you can plan on at least a couple of appointments leading up to the procedure.
Some people prefer to wear a denture while they're prepping for their implant retained denture treatment.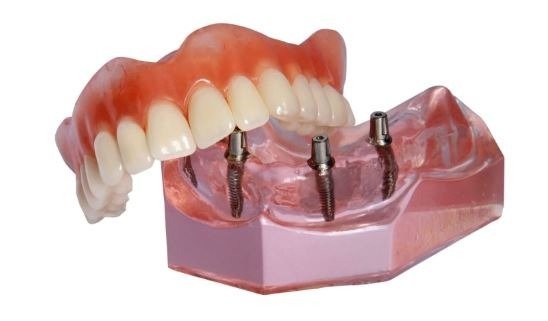 Long-Term Outcomes
When it comes to the longest-lasting tooth replacement, nothing outperforms dental implants. As long as you care for them properly, Dr. Huynh plans for them to be able to last for the rest of your life. The long-term success of our Mesa dental implants makes them the best tooth replacement when it comes to your return on investment. 
Dentures are predictable prosthetics that typically last about 10 years, give or take. For some people they last much longer, while others may wear out more quickly. To extend the lifetime of your "plate", you'll want to take it out each night and have it adjusted regularly when needed. 
Functionality
Dental implants function about the same as natural teeth. Their biting integrity is uncompromised. That means you'll be able to exert more chewing forces on your food, instead of adjusting your diet. But with dentures it tends to be the opposite. Although a denture can be functional, you should expect to lose some of the biting strength that you're used to (which can make it more challenging to eat hard or firm-textured foods.)
Fit and Comfort
With dental implants it's pretty much a "once and done" process. After they're installed, All-on-4 dentures should feel as close to having natural teeth as possible. There's no "plate" over the roof of your mouth, so adjusting to eating or talking with your All-on-4 appliance isn't really a concern.
A great-fitting set of dentures is fine for most people. That being said, it can take a few weeks to adjust to the way the removable prosthetics fit in your mouth. A bit of adhesive or paste can help with security and minor irritations in the early phase of wearing your appliance. Give yourself plenty of time to adjust to speaking (practicing at home can help) and eating (cut your food up into smaller bites for the first several days.) As long as you give yourself some grace and put in plenty of practice, you should be just fine.
Your Oral Anatomy
The shape of the bone under the gum tissues plays a huge role when you're deciding whether dentures or implants are in your future. Since dentures rely on suction, you'll need adequate support underneath. And for implants, there's a need for thick enough bone density to install an implant before treatment is started.
Although adjunctive therapies such as bone grafts (augmentation) can be incorporated, this phase of the decision process will rely on one-on-one advice from an experienced dentist. 
"Which One is Best for Me?"
There's a good chance that you qualify more than just one or two tooth replacement options. Mesa dentist Dr. Huynh will walk you through your various choices to help you make an educated decision about your smile's future.
Eastport Dental offers comprehensive implant therapy as well as custom dentures. Contact us today to reserve a consultation and find out more.