The Pros and Cons of Snap-On Dentures 
With so many full arch tooth replacement options available in Mesa, Arizona it can be hard to decide which one you should go with. During your consultation our dentist will determine which treatments you qualify to receive, and we'll help you make a decision but ultimately the choice is up to you.
One of the most popular tooth replacement options are snap on dentures. When you understand the pros and cons of this specific procedure, it will help you determine if it's a treatment you might be interested in.
What Is a Snap-On Denture?
A snap on denture is an implant-supported appliance. Instead of sitting on your gums and relying on suction to hold itself in place, a snap on denture has special buttons inside of it that clip into special attachments that extend from your implants, resulting in a more secure fit.
Pros of Snap-On Dentures
There are many advantages to having a snap on denture and they include:
Restore the Look of Your Natural Teeth:
When you're wearing your snap on denture, no one will tell they're false teeth because they look real.  This appliance can give you the confidence to smile in public again.  Heck, you might even take up public speaking!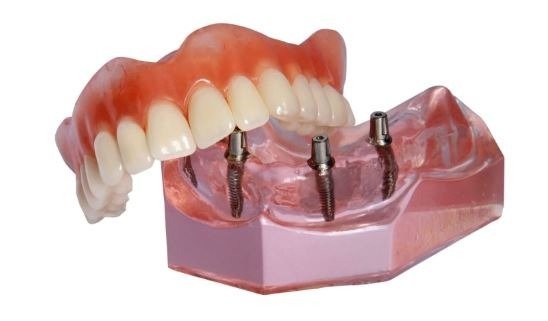 Fit Securely:
With traditional dentures that just sit on the gums, you may not be able to eat certain foods because it could loosen the appliance. With a snap on denture fitting more securely, you regain the function and chewing ability of your natural teeth.
High Level of Durability:
When taken care of properly, dental implants can last a lifetime. The denture itself is also very durable and should last you for many years before needing to be updated.
Affordable Implant Denture Solution:
As far as implant supported dentures are concerned, getting a snap on denture is the most economical option. Other solutions, like all-on-four dentures tend to cost a bit more.
They're Easy to Care For:
Taking care of your snap on denture is easy.  You should take it out at night and clean the appliance, as well as brush your implants. In the morning, all you have to do is pop your denture into place and you're good to go.
Cons of Snap-On Dentures
Here are some reasons that some people may decide not to get a snap on denture…
Surgery Is Required:
While the surgery itself isn't a huge ordeal, you'll need to be healthy enough to undergo the process.
Good Bone Support Is Necessary:
Since the implants are embedded into the bone and the implants are what support the denture and allow them to function properly, it's imperative that you have a good amount of bone structure to hold the implants in place. If you've gone a long time with missing teeth, it's possible that you lack the amount of bone needed to support implants.
Dental Insurance May Not Pay:
Some dental insurance policies won't cover the cost of dental implants. Those that do, only cover a certain percentage, and up to a specific amount (usually around $1,500 or so.)
The Appliance May Need to Eventually Be Replaced:
Depending on what point in your life you invest in your snap on denture, it may be necessary to eventually updated it. Some people can get 20 years out of a denture while others have theirs replaced every five years or so.

It Can be Lengthy Process for Some People:
With dental implants, there's an integration period which typically takes months to complete. Once the implants are inserted into the jaw, the bone surrounding them needs to grow and fuse tightly to the implant.  Nothing can be done to speed up the process; it's completely up to your body to do the work. Once the implants are secured by the bone, we can proceed with the snap on denture process.
Appliance May Cause Speech Impairments:
You may have a hard time pronouncing certain words and making certain sounds with your new set of teeth (at least in the beginning.) It's also common to experience whistling, clicking, or smacking noises at first. Fortunately, practice can make perfect!
Where to Get A Snap on Denture in Mesa, Arizona
The outcome of your new smile should only be left in the hands of highly trained and experienced implant dentists like Dr. Vinh Huynh, DMD. He and our professional staff are excited to meet you and be a part of your restorative journey.  We'd love to see you for a consultation to determine which full arch tooth replacement options you qualify for.  Call Eastport Dental today to get started!